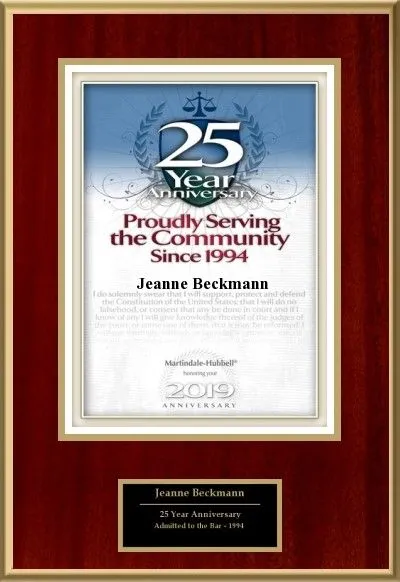 [Jeanne Marie Beckmann returned my call within minutes and continued keeping me informed! I had a 6 DMV point moving violation ticket that she got dismissed! For this ticket, there was no DMV points, no moving violation conviction, no fine and no increase in the cost of my insurance! Truly professional and amazing person!!] - Clare - Avvo June 2022
---
[I have been using Ms. Beckmann for 20 years. Her and her staff are punctual, courteous, and they get results. Prices are very reasonable. She is my go-to for any traffic violations!!] - Haja - Google May 2022
---
[Ms. Beckmann was a pleasure to work with. I had been dealing with another attorney who ghosted me and left me in a bind. I checked out several reviews on different attorneys and was pleased with what I saw for Ms. Beckmann. I called immediately and was quickly put through to her. Within an hour she has a resolution for my ticket and suspension issue. She was very knowledgeable, efficient and professional. I appreciate her work on my behalf. I would recommend her to my friends in the NY area.] - Noemi - Avvo May 2022
---
[Working with Mrs. Beckmann was extraordinary! Words can express my gratitude, Mrs. Beckmann took the time to listen to me, answered questions, found my records and solved my problems in a matter of days. I don't know but this lawyer is an angel in disguise! To anyone looking for an honest, caring and dedicated lawyer with results, you found one on Mrs. Beckmann!] - Gloria - Lawyers April 2022
---
[I had received 2 tickets by a state trooper both holding points and needed professional assistance with fighting them. I did a yelp search and came across highly rated Jeanne Marie Beckmann P.C.I reached out to her office and was able to speak with her in a timely fashion (within a few hours of my initial call). She explained the tickets and their values in detail and how she could best fighting them on my behalf. Based on her thorough information provided and stellar reviews there was not a doubt in my mind she was the right person to assist. She has stayed in touch with me from day 1 and post court date. Her fee is extremely reasonable and 1000% worth it. She was able to make a great plea deal for the tickets resulting in a fine only. Of course everyone's situation is different, but there is no better person to tackle a traffic ticket for you! I will be sure to recommend her to anyone I know in need of assistance! Thank you so much Jeanne Marie!] - Samantha - Yelp April 2022
---
[She was very pleasant over the phone and I got the impression she was very good at what she does. I trusted my gut and she did an amazing job with my case. I Would highly recommend her. Very fair price and very responsive.] - Stephen - Google April 2022
---
[I have been using Ms. Beckmann for 20 years. Her and her staff are punctual, courteous, and they get results. Prices are very reasonable. She is my go-to for any traffic violations!!] - Haja - Google March 2022
---
My wife and I were very concerned about our teenaged son's speeding ticket. He received a 6pt. violation. Jeanne and her staff were very professional understanding and put us at ease on our initial consultation. She gave us the facts and what we could expect. Very honest and confidently we retained her. Jeanne got the case dismissed. We were not only happy with the outcome but also in the caring way she communicated with us. We highly recommend Jeanne !!!] - Artie - Avvo March 2022
---
[So happy I picked Attorney Beckmann as my lawyer she did a great job representing me and exceeded my expectations thank you so much] - Robert - Avvo February 2022
---
[Hired Jeanne Marie for 2 tickets I got in Hempstead and I must say that the outcome was fantastic. I got 1 ticket for suspended registration and the other for unregistered vehicle. Jeanne Marie got one ticket dismissed and the other which was a misdemeanor reduced to a fire hydrant parking ticket, she even got my case on the calendar 2 weeks earlier than the scheduled date. I'm so happy to walk away with just a fine and 0 points on my license. Thank you Jeanne Marie Beckmann you're the best!!!] - Jivon - Avvo February 2022
---
[Ms. Beckmann is amazing - I received a serious speeding ticket in Nassau county, and she was able to get the full ticket dropped. And not only this, she was by far the most affordable traffic lawyer that I could find. Seriously will recommend her to everyone I know!] - Anonymous - Avvo - January 2022
---
[Jeanne is a super lawyer. When she told me she would try to move for dismissal, I had a little doubt. She did get my ticket dismissed. Very professional with very reasonable fees. Highly recommend.] - Jeffrey - Avvo - December 2021
---
[Appreciate all the hard work you and your team did with my case. Had 2 huge tickets dismissed (speeding and stop sign) and was going to be a tough one to work through but with the help of her Well driven staff and well execution from yourself, case got dismissed and the communication was always on point. I recommend you to everybody.] - Bryan - Avvo December 2021
---
Amazing, got 2 of my tickets dismissed. Helped me through a stressful time and make me very calm. - J.K. - Avvo November 2021
---
[Jeanne was a god sent. She got my ticket dismissed and I received no points or no fines. She saved me from a huge financial burden.] - Matthew - Avvo August 2021
---
[I cannot say enough about Ms. Beckmann. When I first read her reviews, I thought they were fake. It just seemed impossible. But our newly licensed teenage son was facing 2 tickets for one incident that would've amounted to 12 points and a suspended license. So, we were desperate. We were hoping she could get the points down for speeding alone - maybe 8 points. But I don't know how she did it but got both tickets DISMISSED!. She was extremely responsive and informative throughout the entire process. I cannot thank her enough. What a gem! I hope we never are in this situation again. But if we are, I wouldn't hesitate to make her my first call. I have shared her information with all my friends and family and frankly anyone who would listen. My insurance premium thanks you.] - Yorel - Google July 2021
---
[Smart, sharp and very skilled, trust worthy and calm, needed guidance and was very helpful and got the job done] - Melissa - Avvo July 2021
---
[She helped me get my case dismissed in court. She replies very promptly to emails and was great help to me. Overall, she was a wonderful lawyer.] - Anonymous - Avvo July 2021
---
[I received a speeding ticket from a state trooper in Nassau and I immediately called Jeanne Marie Beckmann as she was a referral from a close family friend. I signed the retainer and she got to work immediately. My ticket was dated for April but she was able to go into the courts way before that and get my ticket dismissed. Her work is incredible, I'm forever thankful for having Jeanne on my side. Thank you again!] - Matthugh - Avvo June 2021
---
[I had received a six point speeding ticket on Northern State Parkway. This was my first ever speeding ticket and I had immediately started panicking. After doing my research I came across Jeanne Marie Beckmann. I had called her right away for a consultation and she was very thorough about everything and the entire process. She was able to dismiss my six point ticket!! Thank you and your staff so much for your services. I will definitely be recommending her to my friends and family. Thank you once again.] - Dr. Tasnim Matin - Avvo June 2021
---
[I received a stop sign infraction ticket as well as did not have my proof of insurance in the car with me when getting pulled over. Jeanne made the process incredible quick and easy. She was also able help make sure the ticket was minimized and did not go on my record as well as help me through the process of getting my insurance proof to the court. Overall she was incredible helpful and guided me through the whole process step by step making my ticket much less stressful.] - Joe - Avvo May 2021
---
[Jeanne Marie Is the Lawyer to Hire. I was looking at a 6 point ticket with potentially high DMV fines, on top of the ticket cost and other costs or perhaps loss of my license. Jeanne after reviewing my paperwork saw a missing detail in my deposition said WE ARE GOING FOR DISMISSAL! We were granted the dismissal. Her cost is not high and more than worth it!!! Much less expensive than the first people I consulted with. Jeanne Marie Beckmann is sincere and professional I really can't say enough other than CALL HER AND HIRE HER!!!!] - Anonymous - Avvo April 2021
---
[I am so happy I chose Jeanne Marie Beckmann to represent my case. I received two speeding tickets (4 pts each)within 6-8 months and really COULD NOT use any more points on my license because I already had prior points. She was able to the first ticket dismissed with no points & no fines and the second ticket, I only had to pay a fine & didn't get any points! Definitely recommend!] - Cheyenne - Facebook February 2021
---
[Jeanne is on top of her game. Was able to have both of my tickets dismissed. No points. Highly recommend A+++] - Anonymous - Avvo December 2020
---
I highly recommend Atty Beckmann from Hempstead, NY for anyone who wants to dispute the ticket issued by a police officer. Atty Beckmann has empathy to her clients: always had time to reply to all my questions every time I called her. Her secretary is also polite & helpful. It's my first time to get pulled over by an officer for a moving violation. I didn't regret finding her name online because she has raving reviews from her clients.] - Anonymous - Avvo November 2020
---
[I had received four traffic tickets for only exiting out of the HOV lane at an entrance. I would have gotten 11 points and over $1,000 in fines. Jeanne Marie was excellent as she got the judge to dismiss all of them. None of the other lawyers I contacted before her said that was even possible. She was very communicative and very polite over the phone. 100% recommend!] - Anonymous - Avvo November 2020
---
[I've worked with Jeanne twice now. Both times, she successfully got all of my tickets outright dismissed and/or reduced to non-moving violations (i.e. zero points). She's incredibly easy to work with, and she doesn't mind jumping on a phone call to discuss the tickets, talk about best and worst case scenarios, and even chat about the background on the specific laws.] - Agop - Yelp October 2020
[Just wanted to thank Ms. Beckmann. She did an outstanding job when it came to my tickets. She was working on my tickets when I got pulled over for speeding again, I called her and let her know my situation and she handled everything right away. Thank you! Definitely highly recommend.] -Anonymous - Avvo July 2020
---
[If you get a traffic ticket, do yourself a favor and contact Jeanne Marie Beckmann as she makes a headache go away. I was given 4 tickets related to an HOV lane violation on the LIE. Jeanne gave me a free phone consultation where she evaluated my situation, gave me an understanding of the violations received and informed me of the outcome she thought she could get and why. From that point on, I did not need to do a thing. Jeanne filed all paperwork with the court, made appearances on my behalf and got the absolutely best deal possible. Jeanne got 3 of the 4 tickets dismissed and the remaining one reduced to a non-moving no-point violation. So not only were my fines reduced from paying 4 tickets down to only 1 but my insurance rates will not go up. Could not be happier - Thank You Jeanne Marie Beckmann!] -Anonymous - Martindale Hubbell July 2020
---
[My first experience with hiring an attorney for a moving violation for my son and Ms. Beckmann made the experience painless. She was professional, thorough, and had a positive attitude. So glad I found her!] - Anonymous - Avvo April 2020
---
[Very professional and understanding and on point,very honest, she tells it like it is facts, it was a honor to have her as my lawyer!] - Anonymous - Martindale Hubbell April 2020
---
[Great consultation, I decided on her services on the spot. Very professional service from her staff as well. She resolved my case and I could not be happier, I received no points. I highly recommend her services.] - Anonymous - Lawyers.com March 2020
---
[Jeanne Beckmann is an excellent Lawyer. Very helpful and it was very easy to communicate with her. She was able to help me get a ticket dismissed that otherwise would have ended up being a 5 points violation on my license. She is very knowledgeable and very helpful. I would definitely recommend her.] - Anonymous - Lawyers.com February 2020
---
[If you get a traffic ticket, do yourself a favor and contact Jeanne Marie Beckmann as she makes a headache go away. I was given 4 tickets related to an HOV lane violation on the LIE. Jeanne gave me a free phone consultation where she evaluated my situation, gave me an understanding of the violations received and informed me of the outcome she thought she could get and why. From that point on, I did not need to do a thing. Jeanne filed all paperwork with the court, made appearances on my behalf and got the absolutely best deal possible. Jeanne got 3 of the 4 tickets dismissed and the remaining one reduced to a non-moving no-point violation. So not only were my fines reduced from paying 4 tickets down to only 1 but my insurance rates will not go up. Could not be happier - Thank You Jeanne Marie Beckmann!] - Anonymous - Martindale-Hubbell February 2020
---
[Jeanne Marie Beckmann, P.C. provided me with the best possible outcome in Court. She kept me informed all the way. Jeanne Marie is very professional and I highly recommend her to other people who need good representation dealing with traffic issues.] - Anonymous - Martindale-Hubbell February 2020
---
[Jeanne is the best!! Don't waste your time with other traffic violation lawyers!!! Working with Jeanne was a great experience, from our initial phone call I can see that I'm dealing with a professional person that knows what she's doing! everything was organized and on time, I got 5 tickets, HOV lanes, unsafe lane changing on LIE Nassau County, etc and she managed to get 4 of them dismissed . . . I'd definitely recommend her to all of my family/friends! Thank you Jeanne so much!] - Chadi - Yelp February 2020
---
[Fantastic - Extremely professional. Great service. Spoke with me right when I called and I knew right away I had confidence in her. Could not have asked for a better outcome. Best attorney on Long Island if you get a ticket!] - Bayly - Avvo February 2020
---
[Jeanne is a super star. I had one ticket for 2 points that she got reduced to a parking ticket. I only had to pay the fine. I had a second ticket for 4 points and Jeanne got it dismissed. Choosing Jeanne was the best decision.] - Anonymous - Lawyers.com January 2020
---
[Jeanne had all six of my tickets (which carried up to 17 points) dismissed and her services were very effective, professional, & reasonable and If I am unfortunate enough to get pulled over again I wouldn't think twice about using her again.] - Manus - Yelp January 2020
---
[2 Traffic Tickets - Jeanne is a super star. I had one ticket for 2 points that she got reduced to a parking ticket. I only had to pay the fine. I had a second ticket for 4 points and Jeanne got it dismissed. Choosing Jeanne was the best decision.] - Jimmy - Avvo January 2020
---
[6 out of 6 dismissed - I brought Jeanne 6 tickets (potential of 15 to 17 points) total I received on the LIE for various violations on my motorcycle and to my amazement she had all 6 dismissed and the icing on the cake is that her fee was very reasonable. I would have no hesitation in recommending Jeanne's services. 2 thumbs way up.] - Anonymous - Avvo January 2020
---
[Highly recommend this lawyer - Fantastic service. I emailed Jeanne my ticket a couple of days ago and she has it dismissed!! I didn't expect it to be so quick. Best lawyer I've ever had!] - Anonymous - Avvo January 2020
---
[Jeanne Beckmann is the best choice for your traffic ticket defense in Nassau County. A little over a year ago, I received multiple tickets. The potential points accompanying the tickets I had received in one police encounter would have been enough to suspend my license. . . Being a graduate student, I was worried about my license, insurance, and associated costs. A good friend of mine then referred me to Jeanne! She contacted me the same day, within an hour or so. She discussed the tickets and the potential points I was facing. Then she communicated there was a clear indication for overcharging a single HOV violation as multiple infractions. She had a majority of the tickets outright dismissed and then had the remaining tickets reduced to 0 points. All this for a reasonable flat-rate fee. Amazing! Jeanne, thank you kindly. You're the best around! ] – Anonymous – Lawyers.com December 2019
---
[Resolved my HOV Case with NO Points. . . My 30 year driving record was clean with the exception of paid parking tickets, but I received 3 tickets – which would have been 6 points on my license. I contacted Jeanne and received a call right away. She explained how the courts work and the possible scenarios and I hired her that day. Jeanne pled my case which resulted in NO points on my license and a fine. I highly recommend her!] – Suzanne – Avvo November 2019
---
[Great experience and amazing results, every case is different but here is my story. Got pulled over in Long Island, the police officer was happy to write me multiple different tickets on pretty much the same issue, I did my research and selected Jeanne Marie Beckmann based on her reviews, boy I was happy when ¾ of the tickets were dismissed and the remaining one was downgraded. Thank you very much for your help.] – Val – Avvo October 2019
---
[I was visiting from a different state and received 2 tickets. I hired Jeanne right away and she was able to get both of my tickets dismissed with no points. I wouldn't recommend a better lawyer.] – Samantha – Yelp October 2019
---
[From the initial call to getting my ticket dismissed without a fine, this was by far the best experience that I've ever had with a lawyer. Mrs. Beckmann was prompt, efficient, professional and she gets results (and she was really nice too). Well worth the time and money working Mrs. Beckmann and her team. I highly recommend working with her! Thanks again!] – Kevin – Avvo October 2019
---
[. . . The last person I called was Jeanne Marie Beckmann as she had great reviews on google. She was awesome. Her receptionist was friendly as well. The whole process was simple. I told her what happened, got an estimate/quote, I paid, got confirmation, recently just got a notice in the mail saying she was able to get the 2 POINTS down to 0 POINTS!!! I still have to pay the fine but I really don't care about the fine aspect of the ticket. I would highly recommend giving Jeanne Marie Beckmann a call.] – Jae – Google Maps September 2019
---
[Jeanne was able to resolve a ticket I received when I stupidly left my wallet at home and did not have my license on me. Within a day of reaching out to Jeanne and providing my license, Jeanne was able to resolve the issue with skill, compassion, and speed. I recommend her services to anyone with a traffic issue in Nassau or Suffolk County.] – Lisa – Yelp September 2019
---
[My wedding day was only a few weeks away and I received a traffic ticket which would have cost me points on my license. I was already stressed and this ticket only made things worse, especially noticing that the court date was fairly close to the wedding day! Ms. Beckmann took my case and I put all of my trust in her hands, as I just had too much going on. She assured me that I would not need to show up to court and to go have a great wedding and honeymoon. Well, the best wedding gift ever was waiting for me when I received a notice from Ms. Beckmann that the ticket was dismissed! Thank you so much, Ms. Beckmann! You are the best and made hubby and I soooo happy! We highly recommend your services!] – Maria – Yelp September 2019
---
[Ms. Beckmann far exceeded my wildest expectations. She managed to get all 3 HOV tickets dismissed, without a fine or points. I would highly recommend her with no reservations!] – Chris – Avvo September 2019
---
[Jeanne is the very best in her field. She got my tickets dismissed with no points and fines, the best possible outcome a lawyer could achieve in any traffic violation cases. She is very professional, pleasant, efficient, and most importantly effective. She responded to my email on the same day . . . We spoke for 5 minutes the next day and I sent her copies of my tickets and supporting documents. She went to court for me and got my tickets dismissed. Total success!] – Anonymous – Martindale-Hubble September 2019
---
[After finding Jeanne on google, I filled out a 'contact me' form late one night and received a call from her the next morning. We discussed the details of my ticket in full and she explained the likely outcomes. Yesterday, less than 2 months from when I reached out, I received a case dismissal letter. No fine, no points, NOTHING! I could not be more impressed with Jeanne and will recommend her to anyone in need of a traffic lawyer. I hope to never need her services again but if I do ever get another traffic ticket, Jeanne Marie Beckmann will be my first call.] Kayla – Yelp August 2019
---
[Mrs. Beckmann is a great lawyer, she is very understanding and responsive. She went out of her way to help me in my case when Nassau county sent me tickets i did not deserve. I will definitely recommend her services to anyone. Thank you so much!] Timur – Yelp August 2019
---
[Highly recommend !!!! You NEED to hire her!!! Got a seat belt ticket and driving while on electronic device. Both dismissed with a $140 fine No points either!!!! Thank you Jeanne Marie Beckmann!!!] Grace – Facebook August 2019
---
[… This was my first (and hopefully last) experience getting pulled over and I am floored by my experience with [Jeanne]. I thought that fighting this ticket would be a lengthy and time consuming battle. From [her] immediate contact and the time [she] took to walk me through everything and [her] caring tone and knowledge on the subject, [she] has made this one of the most pleasurable experiences (shockingly!) that I have ever had…] Kayla – Email August 2019
---
[Jeanne was incredible. She was super friendly and informative on the phone, and got 2 bogus tickets totaling $850/5 points dismissed outright. I didn't even have to show up to court. I cannot recommend her enough!] Aaron – Facebook July 2019
---
[Jeanne Marie Beckmann provided beyond outstanding service with a seamless process and outstanding result. I highly recommend the Law office of Jeanne Marie Beckmann.] Margaret – Facebook July 2019
---
[Highly recommend Ms.Beckmann to anyone. Ms. Beckmann is extremely professional and she won my case without any points taken off with a small fine settlement (originally 6 HOV violation ticket with total 16 Dmv points). I'm glad found her.] Claire – Yelp July 2019
---
[Amazing Representation. . . Phenomenal Service. Great communication! Jeanne Beckmann and her office, was able to work beyond my expectations and delivered a great representation, saving me substantial money and points on my license! I hired her based on other peoples reviews, and it was a great decision! If you are currently looking for an attorney to represent your traffic matter, you do not need to look any further! I highly recommend that you give her office a call and see what she can do for you!] Jeff – Avvo July 2019
---
[Amazing lawyer, responds to all calls and emails ASAP, has helped me save money on many violations.] Anonymous – Martindale-Hubbell July 2019
---
[Experienced and Attentive! . . . I had received a ticket for an illegal left-turn, which would have cost me points + hundreds of dollars. Jeanne was able to well advise me with possible options and was able to fight to get the case dismissed! I was very pleased with her professionalism and honesty and would highly recommend her as your attorney.] Julio Avvo July 2019
---
[I'm very happy for the result! 5 tickets = 5 dismissed . Jeanne Marie you are the best lawyer I ever work with! Thank you for your service] Itzhak Yelp June 2019
---
[I was in a traffic violation case with the use of a portable electronic device while driving. I was hesitant to call a lawyer for weeks because I have lawyer phobia. Once I hired her she kept me update on my case. She reviewed the police officer's deposition and was able to get my case dismissed. Thanks Jeanne.] Ryan Avvo June 2019
---
[Hugely helpful and extremely professional] Anonymous – Martindale-Hubbell June 2019
---
[What a great lawyer!…I was given nine tickets for improperly exiting and then reentering the HOV lane. Nine tickets! Effectively, resulting in the loss of my driver's license. Jeanne Marie got ride of all nine tickets, no points, nothing except for a $150 fine. She is the best of the best! Thanks, Jeanne!] Joe Avvo May 2019
---
[She gets the job done, after 15 years still our go to traffic ticket problem solved] Eric Yelp April 2019
[If you got a ticket or violation…Jeanne is the best..highly recommended. She is best on Long Island] Dennis R. Yelp April 2019
---
[Jeanne was a pleasure to deal with! When you reach out to consult with her, she is very professional and honest. She'll explain all of the possible outcomes with you, without ever mentioning her fees. She's the Best!] Timmy Yelp April 2019
---
[Professional, efficient and very pleasant to work with- …She took care of the case very effectively and resolved the issue beyond my expectations. Thank you so much!] Anna Avvo March 2019
---
[I was lucky to find and hire her for my case. She is extremely helpful and professional. I will highly recommend her for my family and friends. Thank you for doing such a great job.] Saliman Avvo March 2019
---
[It has been a pleasure to hire Jeanne she was extremely informative regarding the whole process with my case… I had tickets dating all the way back to 7 years ago… she got every single last ticket cleared with zero points and she's someone you can talk to and as busy as she is she always made time to speak and give me any updates. last but not least after 7 long years of no license I can say that is no longer the case and I'm extremely satisfied with Jeanne's representation. ] Donnell Avvo February 2019
---
[Found attorney Beckmann on-line. She was always responsive and took all the time needed to explain everything. She did an amazing job representing us and securing an amazing result for us. Would hire again in a heartbeat! ] Harold Avvo February 2019
---
[I received three tickets (HOV related) on the LIE. Jeanne got all three dismissed. The cost was reasonable and the client services were excellent. I would highly recommend Jeanne. ] Marianne Avvo January 2019
---
[Absolute Perfection-…She said she was going to do her best and she made me feel like I was in good hands. 4 weeks later case dismissed unbelievable she is now my traffic Lawyer for any future problems and I recommend her to all my friends. ] Guillaume Avvo January 2019
---
[Excellent and caring lawyer- handled my case professionally and got excellent result. The communication with her was very good and her responses were promptly. I would strongly recommend her to my family, friends and anyone who needs help with traffic violations. ] Othman Avvo December 2018
---
[Great Results-Jeanne accomplished what I hired her for. I received several tickets for lane changing, etc.(no speeding). All charges were dismissed.
She made the process quite painless with no court appearance. ] Brandon Avvo December 2018
---
[Jeanne Marie Beckmann is an excellent attorney! I received 2 traffic tickets on Long Island (1 claiming HOV lane violation and the 2nd one claiming unsafe lane change… Ms. Beckmann got both of the tickets cancelled, no fines, no points! I highly recommend this attorney. She is responsive, thorough and professional.] Avvo November 2018
---
[RELIEF!!! That is truly the feeling that you feel dealing with Jean M(a)rie. My newly licensed daughter received a very high speeding ticket. The anxiety if she would lose her (license)… the astronomical insurance rate we would be penalized with was frightening. Jean Marie, was positive, gave great advice, non-critical and professional. My daughter's violation was reduced to ZERO POINTS… She is a miracle worker, thank you Jean Marie and her assistant! She was honest and responded to all my questions, I always felt comfortable and never…rushed.] Stella Avvo November 2018
---
[Jeanne was very professional. Signed the representation papers and she took care of the rest including getting best possible outcome of ticket dismissal. Would highly recommend!] Jay Yelp October 2018
---
[I had a triple ticket for crossing over into the HOV lane so I put Jeanne (M)arie on the case…She fought my 3 tickets down to one single ticket and reduced the fine for that single ticket. She saved me money in not only the short run, for the ticket and dmv fees , but also saved me money from the insurance rates increasing. Everything you would expect from a great lawyer.] David Avvo October 2018
---
[Miss Beckmann has got me out of more jams (than I) can count. She has totally saved my driving record and thousands upon thousands of dollars in insurance costs. She is as good as a traffic lawyer can get. Hopefully (I) will not need her anymore but when i do get ticketed she is the first person (I) am calling!] Mike Avvo October 2018
---
[I was traveling out of state to Long Island, NY from Connecticut… Jeanne got 2 of my 3 tickets dropped and 1 reduced to a jay walking ticket paying just a small fine with no points or driving convictions on my record. I highly recommend hiring her…she handles everything for you. Jeanne provided updates accordingly and was very fast to respond to any of my questions. She also did an amazing job of explaining what the process would be like… Thank you Jeanne!] Vincent Yelp September 2018
---
[Jeanne Marie is Fantastic… My insurance was so out of control and I needed help. Jeanne took the time to understand how critical this was and performed accordingly. When I received the letter in the mail…I couldn't believe it. My (m)oving violation was DISMISSED!! Great Work Jeanne!!] Vinny Yelp September 2018
---
[Jeanne was great right from the start. Once receiving my information she called me, reviewed the charges against me as well as what I am facing in terms of suspension, etc. From the start she was confident and professional which made me feel comfortable and that I made the right decision… (I) was facing 12+ points and license suspension, (Jeanne) Marie got it down to a few 0 point non moving violations and that was it! I couldn't recommend her enough! While I hope I never need her services again, I will NEVER hesitate to use her again. Highly highly recommend her.] Avvo August 2018
---
[Jeanne was amazing. She called me and explained every single step in the process and possible outcomes and got me the best outcome! No points and no fees! Would definitely recommend to anyone looking for help! She was so quick to respond and so helpful!] Audrey Yelp July 2018
---
[After speaking with one attorney's office after another, receiving exorbitant price quotes and tepid responses with regard to success for traffic ticket dismissals I came across Jeanne Marie Beckmann. I spoke with her. She was helpful and hopeful for the case……and got my ticket completely dismissed. I hope to never need her services again, but I know where I'm going if I do.] Ben Google+ June 2018
---
[…she called me back the same day to discuss my ticket…she was very honest and open throughout the consultation (and a great listener). It was easy to tell that she was the right lawyer to handle my case. She charged me a (reasonable) flat fee and went to work… I was pleasantly surprised to find a letter stating that my case was dismissed – no fine, no points, and ahead of schedule. I could not be happier. I strongly, strongly recommend going with Jeanne if you find yourself in need of a traffic lawyer.] Agop Yelp May 2018
---
[Had 6 unlawful tickets and she took care of all of them, highly recommend.] Lawyers.com May 2018
[She could erase…total…8 points (3 traffic tickets) for my case. Her responses to my inquiries were always very quick. Highly recommend her!] Avvo April 2018
---
[I had a very positive experience working with Ms. Jeanne Marie Beckmann and her staff. All communications were rapid by email and telephone. She was very clear in explaining the process to me and was very accommodating considering I reside out of state.] Susan Avvo February 2018
---
[…I could not be happier with the results . She was fair from the first minute. She explained ,how my case would play out and she had it exactly correct. Not that i want any more run ins with the state police on the meadowbrook BUT If i did she's be my first and only call.] Martindale.com February 2018
---
[Great lawyer. Did everything for me and beyond. Will refer her to all my friends and family. Thanks so much for your time and consideration.] Martindale.com February 2018
---
[(Definitely) the best attorney I have ever dealt with, handled my sons infractions and got all four dismissed at a very reasonable rate, I highly recommend her] Mark Yelp February 2018
---
[My son had a complicated case that Mrs Beckmann resolved on our first court date even though there was a last minute complication that popped up. Great communication, explained everything in detail, and the end result was much better than we expected. Don't hesitate to contact this attorney, you will not regret it. Thanks again Mrs Beckmann]Lawyers.com February 2018
---
[Highly recommended! Jeanne Marie Beckmann is the best! If I could give her more than five stars, I would do that. Got my two tickets dismissed with no points no fine. She is approachable and professional. Highly recommended!] Aminul Avvo January 2018
---
[Fantastic! So professional and thorough. Would definitely recommend for any traffic violations!] Donna Yelp December 2017
---
[Get the best lawyer for the best price. I would pay more for a good lawyer, to have a lawyer this great and a great price. Her knowledge of the law is extensive. Hands down best Nassau lawyer. Don't hesitate to retain Jeanne Beckmann] Sean Yelp November 2017
---
[You made this situation a lot less painful for me-thank you! I truly appreciate your time & assistance.] Becky November 2017
---
[Jeanne Beckmann handled my son's 509-6 fake ID case and always answered my questions in a timely manner, whether I called or emailed. When I asked her a question not directly related to the case she asked her fellow lawyers about it and called to explain everything. She went above and beyond for everything we needed and was very patient with all of my questions. The case was just dismissed and I would recommend Jeanne for any traffic violation issue..] Eileen Yelp November 2017
---
[She is fantastic. Had a speeding ticket she handled it. Definitely would recommend her.] Adrian Yelp November 2017
---
[Excellent-Excellent-Excellent…Ms. Beckmann successfully got my sons 6 point speeding ticket dismissed. Not only was the result the best possible outcome, the process was even better. Jeanne Marie was an excellent communicator. Very prompt/responsive EVERY step of the way. I truly felt comforted that this would work out for the best. She was very specific in the potential outcomes, and calculated in her approach to reach the most desirable outcome. We were successful as we could have been. I would HIGHLY recommend her services.] Brian Avvo October 2017
---
[After having been pulled over on the LIE for crossing the HOV lane, I was issued an "HOV" triplet, basically 3 fines for the same infractions which would have amounted to 8 points and probably a $1000 in fine. I was very upset about it until I contacted Jeanne who was confident she could lower that sentence by a large amount. I signed up! Well, she delivered, I got 0 points and a largely diminished fine, not mentioning her fee was very reasonable compared to what I saved. I will recommend her to all my friends] Max Yelp October 2017
---
[Just wanted to quickly thank you for favorably resolving my traffic case. I really appreciate it.] Mohamed October 2017
---
[There is no better (attorney) for traffic violations in downstate New York. JMB understands the court systems, the court personnel and the law. I have used and referred people to her for years and have never been (disappointed) by the outcome.] Jay Yelp October 2017
---
[I am grateful for everything you did for me. Thank you so much for working so hard for me. You are an amazing attorney and a wonderful person.] John September 2017
---
[The only traffic attorney you need to know. Put her number in your phone because you never know when you'll need help.] Shanaz Facebook September 2017
---
[Ms. Beckmann has handled (two) traffic ticket situations for me and both times she obtained excellent results that resulted in dismissal of most of the tickets and pleas to non-moving violations that did not involve points on my license or increases in my insurance rates. As a lawyer myself, I highly recommend her.]Lawyers.com September 2017
---
[Ms. Beckmann was able to get two tickets totaling 12 points dismissed for my son. I would have been disastrous for my insurance otherwise. She was most professional and responsive. I am so grateful and have already recommended Ms. Beckmann.] Lawyers.com August 2017
---
[Ms. Beckmann did an amazing job representing me. I had gotten traffic tickets that could have cost me in points on my license, time and more money. She communicated clearly with me every step of the way and was able to work my case so that it did not hurt me. I am extremely grateful for her services and she will be the first person I call if ever in this situation again.] Edson Facebook August 2017
---
[I hired Jeanne Beckmann due to her high rating on yelp and multiple other sites. She was able to get a ticket completely dismissed for me and at a reasonable price for her help] Donna Yelp August 2017
---
[I know and used Ms. Beckmann for the past 7 years. Each and every time she came through for and all my issues were resolved / dismissed, I would and do highly recommend her with no doubt.] Lawyers.com July 2017
---
[Ms. Beckman handled my matter in a timely and professional manner. She was able to accomplish a fantastic result for my case which exceeded my expectations!] Dominic Avvo July 2017
---
[(Ms.) Beckmann was a true professional throughout my traffic difficulties. She gave me great advice and my violations were eventually dismissed. Thank you.] Brian Avvo July 2017
---
[I was facing a two point moving violation. Fortunately, Ms. Beckmann was able to get to get the ticket thrown out. I didn't have to pay a fine and didn't get any points on my license. I would definitely recommend her to others!] Lawyers.com July 2017
---
[I was facing a large fine and several points on my driving record from a moving violation. Ms. Beckmann convinced the prosecutor to lessen the charge to a non-moving violation with a fine to the court that was small compared to what I was facing. I received no points on my driving record. Ms. Beckmann was able to accomplish all of this without me even having to appear in court. Without her help, I would have lost immeasurable funds over the next several years. She is professional, friendly, and superb at her profession. I strongly recommend that you acquire Ms. Beckmann's services.] Libby Yelp May 2017
---
[Ms. Beckmann is professional,effective and knowledgeable. She has assisted me and was successful in dismissing my violations. I have no reservations in recommending her to friends and family. Thank you Jeanne Marie Beckmann] Tiziana Avvo May 2017
---
[Mrs. Beckmann is an outstanding attorney. I am extremely satisfied with her professionalism and effectiveness. She got my ticket dismissed in a very short amount of time and I could not be more pleased with her service. I commend her on her hard work and would definitely use her again in the future if needed.]Samantha Avvo May 2017
---
[EXCELLENT SERVICE..RIGHT ON POINT..EXPEDITED MY SITUATION PROMPTLY AND EFFICIENT ] Lawyers.com May 2017
---
[I retained Ms. Beckmann for some very old traffic violations. she was very quick to find out what the tickets were for and proceeded to expedite the situation without hesitation and resolved all matters within days.. what more can I say.. the utmost professional.. would not hesitate to recommend her services to anyone]Jack Avvo May 2017
---
[Excellent Job!!! Jeanne reviewed the facts of my case, challenged what was not appropriate and as a result, the tickets were dismissed by the Judge.] Benjamin Avvo May 2017
---
[Ms. Beckmann is a competent and affective attorney. She helped me to dismiss a stop sign ticket. And helped me to get the point down to 0 and downsized penalty fee on a HOV related violation. She is excellent and I will recommend her to my family and friends.] Josh Yelp April 2017
---
[She's awesome . very knowledgeable. Knows what she's doing and gets the job done . highly highly recommend her . i spoke to many lawyers and they all were charging me double her price and none offered to have my ticket dismissed and she instantly told me she can highly likely get it dismissed from handling many cases.] Lawyers.com April 2017
---
[I would highly recommend attorney Jeanne Marie Beckmann as she handled a few traffic court tickets for me and my family and got them all either dismissed or reduced. She saved us many points on our licenses. She is close to the courthouse and did not need us to appear in court saving us time and expense. She was very professional, communicated with us well and had very reasonable rates. ] Lawyers.com March 2017
---
[Jeanne is a pleasure to work with. She is professional, effective and reasonable. I will not hesitate to use her services the next time I get myself into trouble. I recommend her to all of my friends who have similar woes and they love…her as well!] Todd Avvo March 2017
---
[ Best Traffic Attorney Nassau County…I have hired Jeanne Marie Beckmann numerous times over the past ten years for speeding and red light tickets with exceptional results every time. I never once received any points on my license .She is a wonderful person, a Superior Attorney, and really cares about the outcome of your case. I can't say enough good things about her. If you need a traffic attorney Jeanne Marie Beckmann should be your choice.] Mark Avvo February 2017
---
[ Ms. Beckmann was extremely helpful and professional in handling my case. This was my first…time fighting two tickets and she was able to get both of them dismissed. She was always willing to speak to me and got back to all my questions promptly and efficiently. I cannot thank her enough for taking on my case and supporting me.] Avvo February 2017
---
[ Ms. Beckmann was extremely helpful and professional in handling my case. This was my first ever time fighting two tickets and she was able to get both of them dismissed. She was always willing to speak to me and got back to all my questions promptly and efficiently. I cannot thank her enough for taking on my case and supporting me.] Brittany Yelp February 2017
---
[ Best traffic lawyer on the planet…over the past 2 years she has gotten 12 points reduced to 0 with a small fine.] Don Yelp January 2017
---
[ When it comes to lawyers Ms. Beckmann is one of the best. I was on the verge of getting my license suspended because I was facing 25 points but because of Ms. Beckmann it was reduced to 2 point only. She is the only reason I am driving right now. She is a lawyer who actually cares about your case and what's the best possible outcome for you. She is very understanding and reasonable with prices. I told her I was a college student and she did her best to help me out. I would reccomend her to anybody in the Nassau area who is facing traffic problems.] Randy Avvo January 2017
---
[ My wife and I have used JMB for the past 8 years and have had all violations reduced or even eliminated – even my last traffic stop which included over 4 violations, which she got 3 dismissed and the last one reduced for a small fine without points.] Jerry Avvo January 2017
---
[ Ms. Beckmann is an extremely effective attorney and as smart as they come. Within seconds of speaking with her on the phone I knew I had someone who (would) doggedly fight on my behalf. I came to her with two separate moving violation cases (HOV lane related) with multiple offenses and she got one dismissed and the others dropped down to no points. Her fee is reasonable and she is very detailed and accessible for questions. I wouldn't want to be a judge or plaintiff facing her, because she is excellent.] Daniel Yelp December 2016
---
[ As a young driver with a clean record, I received a speeding ticket with a hefty fine and four points on my license. Ms. Beckmann was extremely professional and efficient, and always incredibly courteous and polite. Not only that, she was able to get the points lifted in virtually no time at all. I know that I'll always recommend her services to anyone I know who's incurred a traffic violation!] Brian Avvo November 2016
---
[ Ms. Beckmann represented me in a speeding ticket case. She was successful in having my ticket dismissed. I had no problem communicating with her and found her to be very respectful. I would definitely recommend her to anyone that would need this type of legal assistance.] LaurieAvvo November 2016
---
[ Ms. Beckmann was extremely resourceful, personable, and professional. A pleasure to work with and would definitely recommend her services. She was quick to attend court and settle my case for me, as she was in touch with me the entire time she was working, Much appreciated!] Avvo November 2016
---
[ Extremely efficient, we just talk once over the phone, explained to me what I had to send her and that's it. Tickets were dismissed.] Lawyers.com November 2016
---
[ She is great at what she does and fast too!! Will always come back to her and recommend her to family and friends.] Lawyers.com October 2016
---
[Ms. Beckmann is truly great at what she does! She helped me out of a huge jam in no time at all!! I will always use her in the future if needed, and will most definitely recommend her to all my friends and family…] Carri Avvo October 2016
---
[I had 9 points… she was able to reduce them all to zero. If there are inconsistencies with your ticket or if the Officer tacks on multiple tickets for a single offense she will plead them away. I highly recommend her for anyone who wishes to dispute their traffic ticket..] Andrew Yelp October 2016
---
[I received a speeding ticket in Nassau County. I was going along with traffic but the officer stopped only me, stating that since I changed lanes, I "stood out" for him. Then he kept making comments abut how I can just pay the fine. (I have a clean driving record). I decided to call around for lawyers and was told by 2 other popularly-searched law offices handling traffic tickets that the best they could do for me in Nassau County is probably get less points and a fine. I contacted Jeanne Beckmann and she personally called me back the same day. She was extremely professional and knowledgable, and assured me she would do her best. I'm glad I hired her to handle my case. Her fee was reasonable and… she was able to get me no points and a fine…it doesn't show (on) my records… Even though I was out of the country for 3 weeks during the process, Jeanne continued to work my case and kept me in the loop (she or her team are very good about responding via email). I would highly recommend Jeanne. THANK YOU JEANNE!!!] Yelp September 2016
---
[ I recently had a horrible experience of HOV lane violation at I-495 of Long Island. To resolve this problem, I hired Jeanne Marie Beckmann as my lawyer. I found her from internet, in which she was well known and holds best reviews of resolving almost every traffic violations (on) Long Island… She resolved my problem with excellent results. She reduced 6 points to 0 point(s)! I am really satisfied and very happy with this result. She is (an) expert, capable and very knowledgeable. She is an excellent negotiator to resolve the problems. I really recommend her to resolve all kind of traffic violation headaches!] Samuel Avvo September 2016
---
[From the first phone call to the final outcome she was amazing and I could not have done it without her! I would highly recommend her services… ]Lawyers.com September 2016
---
[ This was my first and hopefully last ticket…My son said he (knew) a great attorney, as usual he was right… put me and my family at ease.] Frank Yelp July 2016
---
[Top Rate Attorney…Outcome was great… I couldn't have done it without her legal (advice)… ] Lawyers.com July 2016
---
[ Best of the best! Jeanne was very professional and patient in handling the case. She was very clear in communicating in advance… what to expect during the process. Her service was excellent and responsive. She had all 11 of my traffic tickets dismissed!!! I am very pleased with the results and I highly recommend her services!] Jes Yelp May 2016
---
[ The best attorney !!!! ] Helen Facebook May 2016
---
[ Jeanne Marie Beckman was very informative and knowledgeable… She got me in and out of court so fast (I) was able to go back to work. The case was Dismissed! I would recommend Ms. Beckmann to anyone. She works wonders in the court room. She is a lawyer you can count on!!! ] Jordan Yelp May 2016
---
[ Absolutely outstanding! Jeanne Marie Beckmann was beyond professional and knowledgeable. She knew exactly what needed to be done before my court date and during court which resulted in having my case dismissed. She kept an open line of communication via phone and email. I was never left in the dark and (was)Â told everything that was going to happen and everything that might of happened. I would recommend Jeanne Marie Beckmann to anyone the best of the best!!! ] Jordan Avvo May 2016
---
[I highly recommend Jeanne Beckmann for speeding and cell phone tickets. My teenage son has had more than his share of tickets. Jeanne Beckmann has been able to avoid points and get reduced fines on every ticket. She is very professional. You will be very happy you've retained her. ] Geri Avvo May 2016

---
[ My experience with Jeanne Beckmann was great. I was facing license suspension for 3 violations…I received my judgement which was complete dismissal of all violations. Zero fine, Zero Points… Jeanne's fee was more than reasonable and worth every penny. If I or anyone I know ever needs a traffic court lawyer I will be recommending Jeanne Beckmann. Thank you Jeanne!] Steve Yelp March 2016
---
[ She did an excellent job getting my moving violations dismissed. She was very courteous and explained the process well.] Lawyers.com March 2016
---
[ I would definitely recommend Jeanne Marie Beckmann to anyone…dismissed all 3 traffic tickets…total of 8 points] Luis Yelp February 2016
---
[ Jeanne has been nothing short of wonderful. Thank you for all your time and attention given to my cases and for your excellent work. You have gone above and beyond any expectations I had and appreciate all the work you have done for myself, friends, and family. I without a doubt, would recommend Jeanne to represent any individual for their traffic violations!] Alexandra LinkedIn January 2016
---
[ I don't have enough words to describe how amazing the total experience with Mrs. Beckmann was and would highly recommend her! She possesses every quality of a great lawyer money can buy. She worked very hard to get the best possible result for my husband's case. We needed a lawyer who would listen, care, and defend. She's incredibly knowledgeable, honest, patient and accommodating! Very prompt in all correspondence and kept us informed every step of the way. Made our family feel very valued, respected and represented at her fullest capability!] Mari January 2016
---
[ Very satisfied with an outstanding service. My traffic violation ticket has been dismissed] Monika Avvo December 2015
---
[Best there is. Outcome amazing. Highly recommend. Facing losing a license with too many points to count and Ms. Beckmann got this taken care of painlessly. So easy to communicate with..a pleasure.] Yelp December 2015
---
[Thank you so much for the excellent outcome. Beyond satisfied and I will recommend you to anyone and everyone. Again thank you thank you!] Cheryl Facebook December 2015
---
[…Ms. Beckmann is excellent attorney. I had numerous tickets ranging from (misdemeanors) to driving a motorcycle without a helmet. She has provided excellent results…the best possible outcome. I would highly recommend her to anyone.] Matthew Avvo November 2015
---
[ I am 100% satisfied with the services provided by Jeanne Marie Beckmann. She was very easy to communicate with and took care of the issues I was dealing with. While I hope I won't have a need for her services again, if ever I do, she's definitely the first I'll call. I greatly recommend! Thanks for all!] Steven Facebook November 2015
---
[…Best Attorney Ever!!… I would recommend this attorney to anyone. You have to be crazy not to hire her. I hired her a few years back and she was able to help me. This year I got pulled over and was given 8 tickets…Ms. Beckmann got them all dismissed… She's an excellent attorney, very nice, well educated and really knows her stuff!!! Hire her…you won't regret it!!!] David Avvo October 2015
---
[Best of the Best…Throughout the years I have used several traffic attorneys and no one has been as competent as Jeanne…I recommend her highly]Gary Avvo October 2015
---
[Unbelievable Results!!!! I never would have thought that the results of my son's traffic case would be this good! He received 4 moving violations with a total of 12 possible points. Jeanne got one ticket dismissed and three tickets reduced to parking violations with 0 DMV points. Her fee was reasonable considering it saved my son's driving license from being suspended, avoided increased insurance premiums, and reduced the fines due to the traffic court!]Kerry Avvo October 2015
---
[…She got all my tickets dismissed and I had no points and no fees. She is incredible] Avvo August 2015
---
[Excellent!!!! I don't know what we would have done without you! Your professional manner left us no doubt that our issue
would be taken care of with efficiency yielding the best results possible. And, that is exactly how everything worked out. Thank you so much. I am confident to refer you to anyone who might need your services.] Geri Avvo August 2015
---
[…I hired Jeanne Beckmann…to handle a traffic related case. (She) handled my case with the utmost professionalism and produced a great result. I would highly recommend her for any of your traffic related cases… ] Barney Avvo August 2015
---
[I had a traffic stop with 21 tickets 32 points worth of tickets she got it down to 3 points and her fee was 5 times cheaper than any other lawyer I called and a year later I got 3 tickets that totaled 9 points she dropped it down to 0 points she saved my license and my job…she is very affordable…she's an amazing lawyer and I highly recommend her to anyone who needs a lawyer for traffic violations.]Eric Google+ August 2015
---
[…(Ms.) Beckmann was my light at the end of the tunnel…She was very communicative with me throughout the process, emailed me on time regarding documentation and updates. She is sincere, affordable, very knowledgeable…Although not every outcome is the same, she was able to eliminate (my) four tickets…I recommend her to all my friends and family!] Sal Yelp August 2015
---
[Thank you for all your time and patience with our case. We greatly appreciate all your help. We thought it would be time consuming especially (be)cause we no longer live in NY but you made it fast and effortless.] Danae and Isaac July 2015
---
[Way better result (than) I thought possible!!! I got a cell phone ticket and an intersection obstruction ticket and she got it dismissed.
No fine and no points! I couldn't have asked for more. I hope I never get another ticket, but I know who I will call if I do.] Avvo July 2015
---
[I called Jeanne Marie Beckmann after receiving a speeding ticket and worried that I would be given a three point moving violation
against my license. After speaking with her I knew that she would be the lawyer to trust my case to and sure enough my case was dismissed with no penalties or liabilities. She is a pro and knows the inside and out of traffic law. I strongly recommend her to anyone in need of her services.] Ramona Avvo July 2015
---
[The BEST attorney I've worked with…5+++ stars…I worked with Jeanne Beckmann after I received a traffic violation for "using my mobile device while driving". Immediately after calling Jeanne I felt relieved and that I was in the right hands. She explained the entire process to me, gave me a timeline so I wasn't frantically checking the ticket process, and made the process simple. the end results—DISMISSED!
I would highly recommend her to all- family, friends, etc. She thoroughly exceeded my expectations – in terms of results, professionalism, responsiveness, and knowledge. Couldn't be more thankful.] Lauren July 2015
---
[I cannot think of anyone better than (Ms.) Beckmann. She exceeded my expectations and got me the best possible outcome. Her professionalism, experience, knowledge, and great communication skills made all the difference! She has gained a very happy client for life.] Ryan Facebook June 2015
---
[Ms. Beckmann took care of two summonses for me and successfully got both of them dismissed Ms. Beckmann kept me completely informed about my case and provided A++ service, and in edition her rates are extremely reasonable. I highly recommend her services to anyone in need of a traffic attorney.] Lawyers.com April 2015
---
[From start to finish, Ms. Beckmann was a pleasure to deal with. I had a traffic ticket that I needed her help with and she did a fantastic job getting it reduced for me! She made things easy…and I highly recommend her!!] Lawyers.com March 2015
---
[…Ms. Beckmann is a knowledgeable lawyer…well liked by court staff (other attorneys and bailiffs, etc.). She is professional, punctual and on top of her cases. If you have the unfortunate need for a lawyer due to traffic issues on Long Island, Jeanne Marie Beckmann is the lawyer you want representing you.] Kristin H. February 2015
---
[Jeanne has been nothing short of wonderful. Thank you for all your time and attention given to my cases and for your excellent work. You have gone above and beyond any expectations I had and appreciate all the work you have done for myself, friends, and family. I without a doubt, would recommend Jeanne to represent any individual for their traffic violations.] Alexandra L. LinkedIn
---
[Ms. Beckmann took care of two summonses for me and successfully got both of them dismissed Ms. Beckmann kept me completely informed about my case and provided A++ service, and in edition her rates are extremely reasonable. I highly recommend her services to anyone in need of a traffic attorney.] Lawyers.com April 2015
---
[From start to finish, Ms. Beckmann was a pleasure to deal with. I had a traffic ticket that I needed her help with and she did a fantastic job getting it reduced for me! She made things easy…and I highly recommend her!!] Lawyers.com March 2015
---
[…Ms. Beckmann is a knowledgeable lawyer…well liked by court staff (other attorneys and bailiffs, etc.). She is professional, punctual and on top of her cases. If you have the unfortunate need for a lawyer due to traffic issues on Long Island, Jeanne Marie Beckmann is the lawyer you want representing you.] Kristin H. February 2015
---
[Jeanne has been nothing short of wonderful. Thank you for all your time and attention given to my cases and for your excellent work. You have gone above and beyond any expectations I had and appreciate all the work you have done for myself, friends, and family. I without a doubt, would recommend Jeanne to represent any individual for their traffic violations.] Alexandra L. LinkedIn
---
12/14 "This law firm has got to be the best. I got 5 tickets and my main motive was to avoid points…(She) got a couple of tickets dismissed…(and) was able to avoid points for all tickets…" Avvo
---
10/14 "…My license was suspended, I got fed up and called Jeanne and within a week I had the results I expected. She was very professional, called me anytime anything happened, and fast results. It was nice to have a lawyer who is truly on your side…" Avvo
---
9/14 "Jeanne help a relative resolve a number of traffic and parking violations, some going back years. She settled these by obtaining dismissals or reduced fines for our disabled family member who could not possibly resolve them by himself. Please hire Jeanne if you are facing a traffic or parking violations action; you will be pleased with her services." Michael M. LinkedIn
---
7/14 "Ms. Beckmann has successfully handled many summonses for me, my company, my family and friends. her fees are reasonable and she has always delivered on her promises." Yelp
---
4/14 "If you ever get a traffic ticket in Nassau County, you should give Ms. Beckmann a call. Her rates are reasonable and she makes a point to thoroughly explain what is going on while you are in court. I can't make a higher recommendation." Yelp
---
"When it comes to Transportation Law, Ms. Beckmann is THE BEST. She has superbly represented our company for over 15 years." Avvo
---
1/14 "Will definitely recommend her for your speeding tickets" Facebook
---
8/1/13 "Jeanne was awesome!" She saved me from having 6 points on my license to no points at all. Jeanne was very confident in my case and did exactly what she told me she was going to do. She helped me AND my brother fight those terrible speeding tickets. I am very pleased with her service and would definitely use her again if ever needed." Avvo
---
7/16/13 "Outstanding professional, knows how to get it done. There is very little that one can say well maybe a word, brilliant." Avvo
---
7/13/13 "Excellent attorney. Jeanne Marie handled a few tickets for me very professionally. Everything reduced and with no points on my license. I have a very time demanding job and she handled everything without me having to take time away from my work. I just faxed all the ticket paperwork over to her, explained what happened and she took care of the rest." Avvo
---
4/7/13 "My husband is a lawyer who had met Ms. Beckmann at the Nassau Traffic Violations Agency… He noticed that she was handling a high volume of tickets, knew the procedures well, and was on a friendly basis with the court staff. So he got her card "just in case." The "just in case" came sooner than we expected. My son got more tickets and was facing a possible license suspension. Rather than have my husband (who is a tax lawyer) handle the tickets we decided we needed a specialist. …(W)e hired her to represent my son… She was easy to deal with, her fee was reasonable, and she was able to file a motion and get the ticket dismissed. If you get a traffic ticket in Nassau County, we highly recommend her." Yelp
---
7/15/13 "I highly recommend Ms. Beckmann's services. She was professional, competent and efficient. I felt confident that I was receiving the best counsel and guidance. Knowing Ms. Beckmann was handling my case gave me great peace of mind. Ms. Beckmann acheived a very satisfactory disposition of my case. Avvo
---
6/27/13 " I wish I could have given a 5 of 5 but a 4.95 is the best I can offer. Anything higher would be perfection and honestly the jam she removed me out of, she would deserve it. Very professional and aware of the situation you might be in, everyone deserves and chance and she will work with you on your behalf to achieve just that." Martindale Hubbell
---
6/14/13 "My son recently received a speeding ticket… It would have meant 4 points on his license and a substantial increase in MY insurance. Jeanne was able to represent him from her office on Long Island on my son's behalf and successfully pleaded him not guilty to an equipment charge with no points on his license! Highly recommend!" Yelp.com
---
5/23/13 "professional, reliable, responsible..effective!" Facebook The following are CLIENT TESTIMONIALS posted on Lawyers.com/MartindaleHubbell.com for the law office of Jeanne Marie Beckmann, P.C.
---
5/14/12 "She is extremely professional, pleasant and thorough. I have no hesitation in recommending her services."
---
5/15/12 "I was given her name by a friend for a traffic problem by my 18 yr. old daughter. Points would have gone on her license….My case was dismissed, no points, no violation, no increase in my ins. nor a problem for my daughter's driving record."
---
11/4/11 "It's a pleasure to know she gives 110 per cent for her clients. 3 tickets and all were dismissed. She is the best traffic lawyer in her area of expertise."
---
3/14/11 "She is the best traffic lawyer I've ever witnessed. She got 9 points dismissed for me and I am eternally grateful".
---
2/25/12 "Jeanne Marie Beckmann is a very professional and her ability to communicate the details of the infraction are impeccable. She is very responsive and her office is courteous."
---
2/25/12 "I live out of state and needed local Hempstead representation for a complicated license suspension (decade-old outstanding moving violation with an out of state license involving multiple DMV offices and the dreaded National Driver Registry…) What she saved me in fines and fees more than covered her very reasonable fee. Because of her experience and familiarity with the local traffic courts, she was able to resolve it in a single morning. Highly recommended.
---